morocco-Morocco's Flag Carrier Inaugurates its First Nonstop Flight from Casablanca to Beijing
morocco-Morocco's Flag Carrier Inaugurates its First Nonstop Flight from Casablanca to Beijing
19 January 2020 / News / 229 / Africa-Bi1
---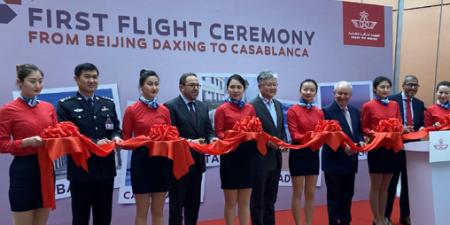 Beijing - A plane of Morocco's flag carrier Royal Air Maroc (RAM) landed Friday afternoon at Beijing Daxing International Airport, marking the inauguration of the first nonstop flight between Morocco and China.
The plane made 13 hours to arrive at Beijing-Daxing International Airport from Casablanca.
A large delegation of senior Moroccan and Chinese officials took part in the inaugural flight, including President of Royal Air Maroc, Hamid Addou, director general of the Moroccan National Tourist Office (ONMT), Adel Al Fakir, Director General of Morocco's news agency (MAP), Khalil Hachimi Idrissi, President of the Foundation of Morocco's Museums, Mehdi Qotbi, as well as several officials from the ministry of Tourism and journalists.
A reception was held on this occasion in honor of the Moroccan delegation at the RAM site, in the presence of the airport's vice president, Kong Yu.
Thanks to this new air route, RAM will link Morocco to China in 13 hours through nonstop flights operated by "B787-9 Dreamliner" with a capacity of 302 passengers, including 26 in the business class.
Flights from Casablanca will be scheduled every Monday, Thursday and Saturday at 5:00 p.m. (local time) for an arrival in Beijing at 11:55 a.m. local time (d+1), while flights from Beijing will be scheduled every Tuesday, Friday and Sunday at 1:55 p.m. for an arrival in Casablanca at 7:55 p.m.
---
---